Gary Marshall
Irvine Welsh has a lot to answer for. In much the same way as British gangster movies made everyone associate the east end of London with long coats, guv'nors and shootahs, Scotland is now inextricably linked with drugs, swearing and psychopaths. With a glut of Trainspotting wannabes hitting the shelves over the last year or so, at first glance Jelly Roll seems to be part of the same sorry crowd. We have all the requisite ingredients for Trainspotting Lite: the sensitive narrator, the "street" dialogue, a cast of screw-ups and psychos, and of course a liberal smattering of drugs, guns, senseless violence and the dreaded c-word.
Former singer with indie under-achievers Long Fin Killie, Luke Sutherland's first novel sticks firmly with the "write about what you know" school of fiction and follows the downward fortunes of an ill-starred and ill-matched group of musicians on a chaotic tour of Scotland. As the camaraderie of the band disintegrates into paranoia, violence and "musical differences", the book becomes Conrad's Nostromo set in a Ford Transit.
It's easy to see Jelly Roll as yet another voyeuristic trawl through the gutters of Scotland, and the first few chapters do little to shift that initial opinion. At times the novel feels as if it's being written to a formula, with savage violence or surreal conversations stuck into the text almost at random creating an unpleasant jarring feeling as the narrative lurches like the Glasgow drunks it describes. Sutherland takes evident pleasure in populating his novel with drunks, screw-ups and pillheads, typical low-life archetypes, yet he puts them in a jazz band with the moniker of The Sunny Sunday Sextet. It's hard enough to imagine these characters playing Death Metal, never mind playing jazz to pensioners, and it's an incongruity which is never really explained.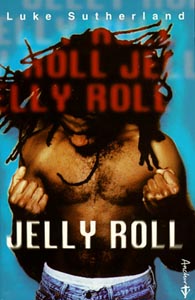 Once the band actually hit the road, however, Sutherland switches off the autopilot and demonstrates a real talent for bringing people, places and situations to life. Grimy soundchecks and the Scottish tourist trail are shown in their full horror, and the tension, stress and occasional catharsis of life on the road is recreated perfectly. Characters have "nicotine fists" and a gig is "a carcass rally in a stable with the wizened heads of the dead nodding along and nodding off"; dialogue is pin-sharp and a rich seam of dark humour is mined throughout.
The book is particularly successful when it describes the band's reaction to their newest recruit, Liam, who is supremely talented… and black. A clumsy device it may be, but through this character Sutherland explores the racism and intolerance prevalent in a country where the ethnic population is an almost invisible minority, a subject he handles with wit, sensitivity and a barely-disguised rage. The situations where Liam encounters racism – overt and covert – from unreconstructed psychopaths and well-meaning liberals alike are presumably based on Sutherland's own experience as a black Scot touring backwater venues.
Luke Sutherland is clearly talented with a great deal to say, and it's frustrating that the borrowed clothes of other authors serve only to hide his ability. Many readers will give up long before the final chapters of the book, during which the disparate subplots link together to create a conclusion as unexpected as it is horrific and disturbing. It's not a bad book by any means but Sutherland is capable of so much more: Jelly Roll is Courtney Pine when it could have been John Coltrane.