Chris Mitchell
Despite appearing in print for the first time this month, Geoff Ryman's 253 is not a new book. This self-styled "interactive novel" has been available on the Internet since 1996 at http://www.ryman-novel.com, and its electronic success has prompted the "print re-mix" version to be published.
The original Internet version of 253 was not a simple case of Ryman putting an unpublished manuscript on his Web site for others to read. Instead, it was consciously written to exploit the new possibilities for writing which the Internet offered. 253 refers to the number of passengers which a London Underground tube train can hold, including the driver. The novel follows the pattern of describing each of the passengers on board in exactly 253 words, including their outward appearance and their internal thoughts.
With the electronic version, the reader can choose any passenger from which to begin reading and then follow how that character interacts with the other tube travellers by clicking the links provided. It's a curiously addictive form of storytelling, relying both on the illusion that the reader is shaping the story through choosing which links to follow, and the voyeuristic joy of finding out what people really think on the tube.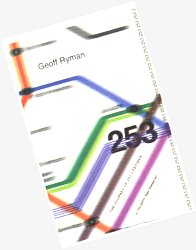 However, much of this joy is lost in the printed version precisely because there are no links. Every passenger gets a page to themselves but there is little attempt to try and recreate the interactivity of the book's original version. You can't open 253 at any page, and so any passenger, because you'll soon be stranded with a particular character, unable to move on to another. Instead of preserving the dynamic essence of 253's electronic incarnation, the book simply asks you to read 253 character descriptions from beginning to end. With the absence of any real character interaction, this quickly becomes tedious. As Ryman himself admits in the introduction , "Nothing exciting happens in this novel. It is ideal fare for invalids".
It appears that whoever was in charge of the transition of 253 from the Internet to the printed page had little idea of what they were dealing with. Where the electronic version seems alive and organic, the print version feels like an example of form obliterating content.
In cyberspace, 253 is already considered a classic example of the emerging genre known as "hypertext fiction", which is seen by some literary critics to be the logical extension of James Joyce and William Burroughs' non-linear experiments with writing. In print, however, 253 can only be seen as a missed opportunity to demonstrate the impact of the Internet on the art of the novel.