Gary Marshall
Most police thrillers conform to a strict blueprint – a misunderstood outsider who's willing to risk his career and his life to get his man, villains who are inevitably the personification of evil and of course a bevvy of beautiful women with a truncheon fixation. Everything is presented in stark black and white comic-book shades of good and evil. Ian Rankin's characters, on the other hand, inhabit a much more realistic world where the lines between good and evil are distinctly blurred.
Set in Edinburgh – though an Edinburgh which owes little to its tourist-friendly image – the novel moves between low-lifes and bright young things, luxury flats and sink estates, from fear and hatred to grief and loss. The actions of Rankin's central character, Inspector John Rebus, are dictated as much by prejudice, bitterness and knee-jerk reactions as they are by logic or police procedure. Not so much misunderstood as held in open contempt by his colleagues, Rebus doesn't bend the rules if he can jump up and down on them in big clumpy boots instead.
The "dead souls" of the title seem to follow Rebus wherever he goes – the apparent suicide of a colleague, the return to Scotland of deported murderers, the disappearance of an ex-girlfriend's son, memories and emotional baggage. As with previous Rankin novels the crime genre allows the story to cover subjects which could have been torn from today's newspapers – abuse of children in care, the deliberate neglect of "sink" estates, the rehabilitation of convicted paedophiles into the community and the fate of missing persons or "mispers".
Under the weight of such controversial subjects most authors would attempt to simplify and sermonise, but Rankin is brave enough to present these issues in all their complexity. Rebus tips off the local newspapers about the presence of a convicted paedophile in a housing estate, sparking off hatred and violence towards a man who is as much abused as abuser. Similarly there is no attempt to put a gloss on the repetitive and pointless nature of much police work; surveillance is portrayed in all its buttock-numbing tedium and the futility of tracing missing persons is made tragically clear. The current fascination with the criminal as celebrity is ruthlessly pilloried and, unlike the Ben Eltons of this world, Rankin makes his point without needing to resort to patronising expositions or painfully contrived set-pieces.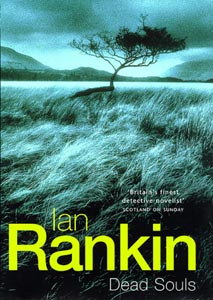 What makes Rankin's novels special is the fallibility of the characters. Rather than the thinly disguised wish-fulfillment of the typical police procedural, Rebus is a deeply flawed individual who is frequently out of his depth and makes mistakes, often serious ones. Where many crime novels feature policemen with drink problems who have become born again straight-edgers, we see Rebus regularly succumbing to temptation with all the attendant problems and self-loathing. By placing Rebus into a cast of characters who are equally flawed Rankin manages to make him both sympathetic and utterly realistic. Here, unlike so many novels in the genre, we have a a detective who cannot put the world right using only his fists and who is frequently outclassed and outmanoevred by his opponents – a hero who is human rather than superhuman.
In Rankin's first few novels Rebus seemed like a composite of many other fictional detectives, McIlvanney's "Laidlaw" with Genesis CDs instead of Kierkegaard and Unamuno, but the characterisation has become stronger in recent books and in Dead Souls is particularly well-drawn. Rebus is now a strong and believable character in his own right, a man who has sacrificed relationships, his health and possibly even his happiness for a job that he no longer believes in. The only jarring note is his relationship with the aptly-named Patience who seems to tolerate Rebus' behaviour irrespective of how self-centred and tunnel-visioned he becomes.
Like James Ellroy's work the novel is full of barely-disguised rage, providing a less-than-flattering counterpoint to the glossy brochures and PR puffery emanating from the tourist board. Ultimately the book is a powerful and elegiac novel which prefers to challenge the reader's preconceptions rather than reinforce old stereotypes or provide neat scenarios and happy endings. Dead Souls is an intelligent, ambitious and powerful novel by one of the finest writers in Britain today.