Gary Marshall
Do you remember the Fighting Fantasy books? Computer games for people whose parents wouldn't buy them a computer, each page of a Fighting Fantasy book would end with a number of choices. If you wanted to attack the skeleton with a sword you would turn to page 33; if you wanted to scream and run away, you would turn to page 47 and so on. Damascus is a bit like that.
Don't worry, there is no frantic page-flipping in Richard Beard's second novel and there aren't any zombies or skeletons. Instead, Beard employs an unconventional narrative structure to craft a tale which explores how life can change in a single moment.
Damascus is the story of Hazel and Spencer, two children who meet for the first time – or two adults dealing with a one-night stand, or two teenagers conducting a long-distance telephone relationship. The story takes place in London or Glasgow or any one of a thousand different towns but the date remains constant: November 1, 1993.
One of the problems of recounting different storylines within the same time frame is that the writer can often baffle the reader – a trap novels such as Don DeLillo's Underworld fall into all too readily. Damascus neatly sidesteps this problem by using the same characters in each scenario and returning to Hazel and Spencer as young adults in what becomes the central narrative of the novel. The different storylines and possibilities coalesce in the final chapters of the book which manage to be farcical and touching at the same time.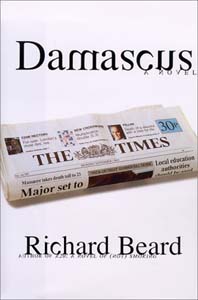 Although the main theme of the novel is the road to Damascus, people waiting for the moment which will change their life beyond all recognition, the novel manages to cram in dozens of subplots without overpowering the story. Themes recur throughout the book – ambitious fathers trying to live their dreams through their children, accidents and tragedies, the speed of modern life – and, like the central story itself, they are shown from various different perspectives. For all its cleverness the technique enhances rather than detracts from the story and the characters of Spencer and Hazel in particular are consistently well-drawn, likeable and frustrating in equal measure.
The scenes where Hazel and Spencer try to come to terms with a one-night stand are expertly described, full of awkward silences and unspoken criticisms; by contrast, their teenage phone box conversations show adolescent confusion and pretentiousness without making the characters any less likeable. Beard is particularly good at articulating the thoughts and words of teenagers in a manner which often makes you squirm in uncomfortable recognition.
It's very difficult to categorise Damascus. It's a life-affirming comedy which features a cast of characters including teachers, murderers, vagrants and a man who lives in a shed; it's a coming-of-age story which is beautifully observed and balances humour and sadness without detracting from either; it's a story about stalking or ambition or love or families or any one of a thousand different things. Damascus is an extraordinary and wonderful novel from one of the most exciting new writers in Britain.