Chris Mitchell
Cyberspace is perhaps the last place you'd look for some sort of spiritual revival at the end of the twentieth century. But Margaret Wertheim believes that cyberspace is indeed a contemporary secular version of the medieval conception of Heaven – that is, a space which exists somewhere beyond or outside our everyday world.
The Pearly Gates Of Cyberspace is a fascinating historical tour through human conceptions of space. Despite the newness of the idea of cyberspace, Wertheim argues, the way we discuss its existence is shaped and framed by thousands of years of spiritual and scientific thought.
Beginning with Dante's Divine Comedy, Wertheim spends the first two thirds of her book discussing how the medieval conceptions of Heaven and Hell were seen as distinct spaces, with their own structure and order into which human spirits entered. Giotto's religious paintings in the 13th century provide a breathtaking visual depiction of these spaces. The scientific conception of space brought about by Newton essentially eradicated the medieval picture because his notion of absolute space literally left no room for the existence of Heaven or Hell, a legacy which continues today.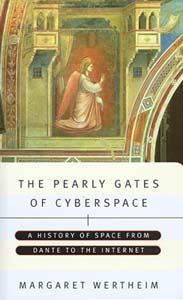 Entering cyberspace involves becoming free of bodily and geographical constraints. People online are minds interacting with one another, which harks back to the medieval dualist conception of humans as both bodies and spirits. This runs counter to the modern scientific belief of humans being simply physical creatures, completely restricted to this particular world. Wertheim argues that the scientific quest for a theory of everything will always fail precisely because it cannot account that which lies outside the realm of the physical.
Cyberspace itself, Wertheim maintains, lies beyond any physical structure even though it obviously relies on physical objects for its existence – much like human thought. Coupled with the Utopian evangelism with which cyberspace has been described by numerous Net luminaries, Wertheim argues convincingly for the notion of cyberspace as the attempt to create a secular Heaven on earth.
Naturally, Wertheim is sceptical of how far these Utopian claims for cyberspace are actually true, but she does see cyberspace's advent as the beginning of a new conception both of ourselves and our world which breaks away from the purely physical model espoused by modern science.
Whether or not you agree with Wertheim's thesis is secondary to the enjoyment of her book. The evident scholarship that has gone into its historical research and the lucidity and passion of Wertheim's prose is both illuminating and entertaining. By grounding cyberspace within a historical context, and indicating both its similarities to the past and what sets it apart from the past, Wertheim has provided a unique account of what could be the emergence of a new secular spirituality.