Gary Marshall
One of the biggest publishing success stories of the last decade has been the legal thriller where bright young turks defend truth, justice and the American way. Attorney-turned-novelist Richard Dooling has obviously spotted this and, with Brainstorm, attempts to bring some new life to the genre. In addition to the usual legal shenanigans and lawyers battling with their conscience, he adds cutting-edge neuroscience and a veneer of techno-lust. Imagine John Grisham with a laptop and you're halfway there.
Dooling's novel follows the tried and tested formula of the legal novel, with a young and ambitious lawyer laying his career on the line to defend a misunderstood man against the hysterical might of the prosecutors – although in Brainstorm the action takes place in the judge's chambers rather than in front of a jury. Into the mix he adds intelligent comment on the rise of political correctness and right-wing militias, the ethical issues facing defence lawyers and the question of whether violence is caused by nature or nurture. Unfortunately this breadth of scope is also the book's downfall – at more than 400 pages the book is overlong yet paradoxically fails to flesh out many of the storylines.
The problem with Brainstorm is that it's simply too ambitious. Billed as a comedy – "America's Funniest Novelist", screams the cover blurb – the book deals with too many weighty subjects to be funny. Although characters such as the gleefully malevolent Judge Stang are fine comic creations, Dooling places them into discussions about hate crimes. Similarly the lengthy treatises on neurology and neuropathology feel like the parts of a film where the leading lady explains the entire story so far to aid the feeble-minded. Any of the subjects on their own would have made a fine and intriguing courtroom drama but together they weigh the book down in a mess of tangled plotlines and intrusive "aren't I clever?" expositions.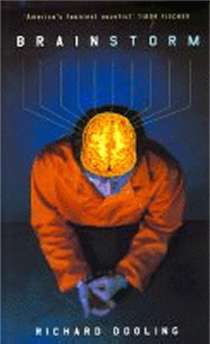 By far the biggest problem with the novel is that Dooling tries far too hard to impress us. Neuroscience is described at tedious length (you find yourself shouting "get on with it, man!" when yet another explanation of brain receptors comes looming into view like the office bore at a staff party). Use of technology is described in almost pornographic detail – presumably to appeal to the digerati – yet lengthy explanations are tacked on afterwards to ensure the Grisham audience don't get lost. Caught up in his own techno-lust, Dooling clearly intends to have us roaring at lines such as "so far it was a case of trying to install Mistress 1.0 before uninstalling Wife 1.0. IRQ conflict" when the only image that springs to mind is your dad trying to dance to hardcore techno. The use of technology in particular suffers from a serious dose of the Alastair MacLean Syndrome where research has to be quoted in full at every opportunity; web searches are detailed along with software versions, site names and URLs and PC metaphors are used at every opportunity. Dooling clearly wants to be seen as more than just another lawyer-turned-writer but overplays his hand, sabotaging the readability of the book and bringing to mind mental images of accountants at a rave.
So, is Brainstorm essentially "To Kill A Mockingbird" written by Bill Gates? Unfortunately, yes. If the book had remained a legal procedural, perhaps with the neuroscience as a sub-plot, then it would have all gone swimmingly and the novel could have stood proudly next to psychodramas such as Phillip Kerr's "A Philosophical Investigation"; alternatively, a straight legal drama without the "whither America" baggage and played for laughs would probably have been highly amusing. In this context the description "America's Funniest Novelist" makes about as much sense as "Joy Division's Happiest Tune". As it stands, Brainstorm is simply bobbins.