Antony Johnston discusses cities, prose remixing and the death of Vurt with Jeff Noon
I meet Jeff Noon in his now-native Brighton, stepping off the two o'clock from Victoria to greet a man surprisingly recognisable from his dustjacket photographs, casually dressed and affable.
You heard me. Jeff Noon, the man who made Manchester live, breathe and kill over the course of five books, has moved to Brighton. And I'm not the only person curious as hell to know what that's all about.
But before we can settle down, Noon leads me out the station into Brighton proper, and casually asks if I know the city. I don't; this is my first visit. So he offers a two-second whistlestop tour, in the process answering the question for me.
"Look at that sky," he says, gesturing upward. It's a dry but dim day, nothing special to my eyes. "Even on a sunny day in Manchester, you wouldn't get a sky like that. It's always grey there."
As we walk in the direction of the North Laine area, he explains: "I've always loved Brighton, ever since I did my first one-man shows down here. They were always a great crowd. I could just tell they were up for it, laughing at every word."
In contrast, he folds his arms and adopts an unnaturally grumpy face. "Manchester's a much harder audience. 'Go on then, impress us.' Down here you don't feel as if you have to prove yourself before they'll listen to you."
He laughs, leading on, and it strikes me that he really does seem very relaxed. Not at all the intense, edgy character I was expecting. He outlines some of the appeal of Brighton, and it becomes apparent how much Noon's obviously enjoying himself in his new home.
"Brighton's all about the individual. There's a sense of youth, and a great artistic community. In Manchester, I felt isolated – here I've met more people, very quickly, and started working with other artists much more than I did in Manchester."
We turn down one street in particular which Noon presents as an example: "Look at this place; Green Street. It's all young businesses, they flock here. Here, look at this."
He's paused outside a small shop with wooden fixtures, old-style fittings, and…
"Beads. They sell nothing but beads, for goodness' sake."
He's right. I peer in, and finally realise what he's really pointing out; it's quarter past two on a Wednesday afternoon. And the shop's packed.
"And it always is," he says with a smile. "Now you try and open a shop like that in Manchester and, well…"
Dead within a week?
"Yeah. Dead within a week."
Down the end of the street is a small place called the TinTin Café. We step inside and take a table. Noon still hasn't told me exactly why he moved from Manchester, his synonymous (perhaps even symbiotic) stomping ground. And it's something which shocked a lot of people. Something I need to know.
"People are shocked, and I think that's quite interesting. I've been asked that question a lot, and the fact that I've been asked it… That tells me something. It's to do with the fact that hardly anybody writes about Manchester, in any medium, in such an intimate way as I have. I reckon the only other person who's been asked so many times is Morrissey, when he left the city."
He points out that despite the number of artists Manchester produces, nobody would think twice about Oasis leaving, "Because their work isn't about Manchester. It could have been done anywhere, you know?" He laughs and shrugs.
"It's not my fault that I'm one of the few that's actually taken the city and tried to do something with it. So I think that's actually a question you need to ask the city of Manchester. Why are there so few people writing about it in such an intimate way that when somebody who does do it leaves, people get upset?"
The answer may be simply that putting Manchester into words is such a difficult task. It was no easy journey for Noon, and he all but brought about his situation himself.
"I started to feel isolated. I'd been putting these books out, five books, all about Manchester, and I came to feel that… I wasn't getting the kind of reaction that I would have hoped for. And it's entirely my fault, because I kind of set out on a mission. It's always dangerous when you do that."
Mission? What mission?
"To put Manchester into the consciousness in terms of prose. To discover, and write in, a language that had come out of the city. And I think on my own terms, I'd succeeded in that. On my own personal terms. But it was definitely a mission." He laughs, shaking his head. "And whenever you set out on a mission, you can only ever really be disappointed."
Over the last few years, Noon watched his city slowly disappear. Suffocated under a blanket of rejuvenation called New Manchester.
"The poor place has been rejuvenated until it can hardly breathe. Which is great, but you have to be careful that you don't rejuvenate into blandness. Increasingly, the city I'd been writing about started to vanish, and I have no interest in writing about yuppies living in city centre flats. I'm not putting them down, but it's just not an area I have an interest in as a fictional subject. They even knocked down Bottletown."
He's referring to a location in Vurt, a planning hell of broken glass and towerblocks, a societal nightmare of accelerated residents with no concern for tomorrow. Is he saying Bottletown was real?
"Yeah, 'Bottletown' is this place called Hulme. Hulme was an amazing place, and very typical of what's happened in Manchester, in a sense. It's this 1960s council place: flats, 'terraces in the sky.' It didn't work as a family place at all, so all the families moved out. And they began moving young single people in, students and so on. Short-term people.
"So it all started to change, and that's when I lived there. Hulme became this hotbed of activity; lots of bands started there. There were recording studios in the flats, totally illegal. And it was very close to Moss Side, the large black area, so there was a lot cross-fertilisation between the cultures going on. Just a mad place.
"Eventually, they just knocked it down. They had to, it was very badly built and so on. But all that atmosphere, all that excitement, has dissipated. And they've built this new Hulme in its place, which is…" He pauses, choosing careful words. "I mean, I'm sure it'll be interesting in 50 years, but at the moment it's like a toytown. Not an ounce of atmosphere."
Aware of what may seem to be a nostalgia trip, he adds, "Obviously, each generation has its own needs and desires. But for my personal generation, that place at that time represents the spirit of individuality, which is entirely what my work celebrates. Now it's moved, and I don't know where it's gone. And I'm mostly too old to go looking for it any more."
Does he think someone else will find it? Was this it, the generation gap catching up perhaps?
"Yeah, I think so. And one of the things which I hoped would have happened by now, was for my success to have dragged other writers up who would deal with the city in their own individualistic way. That didn't really happen, and I think it should. I think it needs to happen. Manchester needs that voice, because it's very hard to say anything against this New Manchester effort that's building up. So the city needs that voice, the alternative voice. And it needs the alternative voice to be a success, to a good degree rather than just being underground."
This voice… does it have to be a native one? He's a Mancunian, so were Morrissey and Ian Curtis: does he feel that sort of experience is necessary to capture the "real" Manchester?
"No, no, not at all! I mean, a lot of students come into Manchester, from all over the place. It just needs people to talk about the city in a certain way. It's time for someone younger than me to do that now, because my concerns are changing over the years, as they do."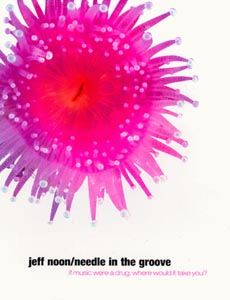 I mentioned that because one of the things Noon did inspire with books like Vurt was a sense that no matter who you were or where you lived, your town was as good a place as anywhere to tell a story. It's very easy to get trapped into the feeling that interesting things only happen in "glamorous" places, like London or New York…
"Yeah, and the reason for that is quite simple, but a difficult truth for people to handle. It's to do with stories, and the kind of environments that allow stories to happen. Obviously, with places like New York and certain areas of London, you have an environment that does very readily create stories; it's to do with the way that people live their lives there. Once you get into the provinces, of England especially, you start to lose that melting-pot of ideas. There has to be a lot of work done. It's much more difficult to write about Manchester than it is about Soho, for instance. But these are problems that writers in the future will have to face and sort out."
A matter of finding the stories?
"Yeah. I think that in a place like Manchester there are a limited number of stories anyway. And a lot of the writers that have written about Manchester have tended to concentrate on these certain things."
Is this why Noon chose to make his work ostensibly science fiction? As a way of creating a Manchester where stories are created more readily?
He pauses, contemplating his orange juice. "Difficult question, that."
That's the idea…
"Certainly, I've been writing plays…" He pauses, considering. "I've been writing since 1984, doing one-man shows. And that stuff wasn't really about Manchester as such. It tended to be quite experimental, just set nowhere. My only big success as a playwright was Woundings, and that's set on the Falkland Islands!
"So I didn't really have that inkling to write about Manchester, and I think that was because nobody was. There wasn't the heritage there which you get in, say, pop music. Pop's been rooted in Manchester since 1977, the idea that this is a place where you can do that. So young generations of people automatically fall into it."
But it seems the final impetus came from an unexpected turn of events. "I started writing a play called The Torture Garden, again set in a totally fictional environment. But the person I was writing the play for left the country for a job abroad, and I was left with this half-finished idea."
At that point, Noon was working in a Waterstone's bookshop in Manchester. This is the point where everything happens; this is where it all turns around. Steve Powell, the man behind the fledgling Ringpull Press, was also working there. And he needed someone to write a novel for him…
"I took the ideas of that play, and turned them into Vurt. And that's the first time that I started to write about Manchester. I wasn't that conscious of even doing it; I was a quarter of the way through when I suddenly realised, 'Hey this could be quite special, no-one's really done this before, not in this way.' And that's when the mission set in…"
Noon's not the first writer to be halfway through a project before realising what the essence of the work actually is, and he agrees that it's often the best way for a work to come about.
"The more and more books you do, the more you think about what you're doing. I'd always been interested in Ballard and Borges, people on the fringes of sci-fi, though; and the sci-fi thing happened almost accidentally, just came out of the ideas in The Torture Garden."
It almost sounds like one of Noon's own fictions, the random remixing of concepts, words and spaces into something altogether different.
"I've always been drawn to quite experimental art. But the idea of experimental art in Manchester at the time… It's almost impossible to imagine what Manchester was like back then. It was so dark, and grimy, and grim. You just can't imagine what it was like from here. So yeah, when you come to Vurt, you get this quite down and grimy place — a place of shadows — mixing with this phantasmagorical world."
Dark, but with a lot of energy, too.
"Yeah, there was that. There's always been that, and that comes out of the punk thing."
It will surprise no-one to learn that yes, Noon was a punk. It was the only time in his life where he was part of a crowd, a movement — "I'm just not like that naturally" — and to him it signifies the real start of his adult life. He's at pains to point out that his work is societal, not just cyberdrugs and urban grit.
"If you actually examine Vurt, there are serious things going on in there which nobody ever talks about. It's about escape, and facing up to the realities of what it is you're trying to escape from. This is something that happens again and again in my work; it's one of the themes that I pinpointed as being a typical Manchester story. The need to escape from your situation."
Certainly, many of Noon's characters have an introverted quality, continually faced with the temptation to retreat into a secret, safe world. His stories are about finding the courage to face what you're retreating from.
"I think if you go back to Morrisey's work with The Smiths, you'll definitely key into that feeling there as well. Manchester in the '70s, when both Morrissey and I were growing up, was just not a place to be sensitive, or to be artistic or creative; it was beaten out of you. So you do get the sense of escape going on with people from our generation."
What about other, later generations? Are they escaping too?
"It's quite interesting to look at what's been coming out of Manchester since then, typified I suppose by Oasis and Happy Mondays. I mean, the escape that they're on is just not the same at all. They're escaping into stereotypes, for a start. There's very little sense of exploration in their work. And it really does upset me that Manchester has become associated with that 'laddist' image."
So who does he regard as closer to the spirit of the city? Joy Division, perhaps?
He laughs quietly, like a private revelation. "I regard Joy Division as being the spirit of the city! If you look at The Smiths and Joy Division, you've got a light and dark thing going on there, a reflection of what was going on in the city at the time. Whereas, with the new Manchester thing, the 'New Manchester' people, they're trying to pave over the darkness."
Not something Noon could ever be accused of; his Manchester is a place where tattooed addicts make love to shadows, dogs and humans carnally succumb to aphrodisiacs, where a young girl with a deadly kiss is the living embodiment of Mother Nature's power to destroy. And the sirens never stop.
Vurt was a watershed book; upon release it, and Noon, made a leap into the consciousness of underground literary subculture. Why does he feel the book had such a strong impact? And how does he view himself, no longer the underground writer he was?
"Am I not?" He laughs. "I hope that my heart's still there. I mean, when Vurt initially came out it reached a certain number of people, and grew from there, but it's been very slow. Even now, my sales aren't what you'd call massive."
He emphasises the word. "Slow. I know that when I start complaining about this, my writer friends just say 'Shut up, Jeff. I should have your problems!'" He laughs again. "But I'd really like to break through to another level. I'm really into reaching out to people, but in an interesting, experimental way. That's what I've always tried to do. I have no desire to write books just for a few people to enjoy. That's not really me.
"But at the same time, I have this really strong streak of experimentalism [sic] that just kind of pushes things a certain way. I just hope that one day it will happen, you know? With the kind of age that we're moving into now, we should be discovering new ways of telling stories. And I hope my work becomes part of that. But it's a long journey."
Speaking of experimentation, new ages and cultures; what is it about club culture in general which appeals to Noon? Much of his work seems almost entrenched in club/dub fusion culture, the primacy of the DJ.
"That goes back to punk again. The most important moment in popular history happened in 1977, when white kids discovered dub reggae. From that moment comes everything we now listen to. And it was a complete revelation to me. I was learning to play the bass, but I'd never really listened to the bass on a record before. In pop music, it was always guitar and voice; we didn't really know what a bassline was, because they were always turned down low.
"But suddenly, with dub reggae… It doesn't just turn it up, it actually says, 'This is the centre of the music.' The bass and the drum; everything else is decoration. And I think you can follow that moment from there right into club culture. Hip-hop especially, but also house and techno, speed garage, whatever, discovering the bass and the drum and the beauty contained therein.
"So with the post-punk scene happening as well, you started to get this really experimental thing going on with groups, especially bands like Pere Ubu and XTC. You get an interesting space in music, so that when you now get to a producer like Timbaland, you can see that his spatial imagination is immense, thinking about exactly where he's gonna place this hi-hat sound, and so on."
Being a big experimental ambient fan myself, I couldn't help but notice an acknowledgement to Autechre at the start of Needle In The Groove. Is it fair, then, to say he simply seeks out experimentation, no matter what the artform?
"Yeah, absolutely. I love all the stuff that happens on the fringes of the dance scene. The stuff you can't really dance to, but it's still a part of the scene. I'm really into German music at the moment, Oval and Mouse On Mars. Again, there's just that interest in sound.
"So the point about club culture is, it's not so much the rave and Ibiza scene, but more the kind of manipulation of sound that's going on, and the way that that feeds back into the way people live and view their lives these days. I know for a fact, for example, that those young kids over there –" He points at three young skaters across the street, "– have a very different mindset to the one I had at their age. And a lot of that is to do with the way they're experiencing the world, the way they're experiencing music, film, TV, the internet and so on. I'm really interested in that, and that's mainly why I tend to write young characters. And these days, that experimentation with sound is fed into the work too."
They also have different drugs. Which is as good a way as any of bringing up the thorny subject. It's become de rigeur to describe Noon's work as "trippy." Are, or were, drugs as big a part of his life as it seems?
No." He laughs; I get the impression he's asked this question a lot, too. "Tiny, tiny part. In my work, as something that I write about, it's just a metaphor for change. It forces the character to change. If you look at Vurt, there are loads of 'cheat modes' going on in there, by me as a writer. 'Vaz' is the ultimate cheat mode; Vaz will get anybody out of anything! But with the feathers it's more a feeling of, 'Okay, let's push them onto the next level now.' And it automatically does it, for me as a writer."
So much for that popular myth, then. If drugs aren't part of Noon's inspiration, what is? Who does he read, for example?
"I read and re-read Jorge Luis Borges, in fact I'm just re-reading his stuff at the moment. He's one that I come back to all the time. The more I write, the more of his influence comes in there. And J G Ballard meant a lot to me when I was in my twenties."
What about other media, besides music?
"Painting." He says it as if it's the most natural thing in the world. "My first and natural talent is to paint. That's what I was born to do. I trained in painting and visual arts at University. But I haven't painted since 1984, when I started seriously writing plays.
"So really, there's lots of stuff going on in my work. Lots of stuff coming from music, lots of stuff coming from visual arts, and the history of visual arts. And it all kind of gets mixed up in there."
Does this mean, then, that he doesn't "do" research as such? That it all comes from a big dub inphomix in his head?
"Yeah, that's just what it is. I pick it up, and it all kind of gets filtered through my imagination. I don't do a lot of research, no." He laughs quietly.
"The thing is, my work's changing at the moment. It's becoming more real. The project I'm working on at the moment is to all intents and purposes historical, so there's a certain amount of research going into it. But I don't get trapped by it… and I just exaggerate. I go over the top and see what happens. I do think those writers who are bound by the science…" Careful words again… "It produces a certain kind of work, which has a certain kind of appeal. But it never interests me, that hard science fiction."
Does this follow through into forethought? There's a theory going round that Nymphomation, for example, was planned right from the start, back when he wrote Vurt.
He laughs again, but loud this time as his ever-present half-smile finally splits into a wide grin.
"No, not at all! Everything is retro-engineered. There's no plan. The last sentence of Nymphomation actually came about by accident…
"I was doing a reading, and somebody asked me what I was working on. So I said 'I'm doing the first book in the Vurt sequence, set before Vurt.' And this person asked — completely innocently — 'What, you mean it ends with the first sentence of Vurt?' And I just said, 'Yeeeaaah…' But I did have in mind this four book sequence. Honest…"
Will we see any more? Is there another Vurt book in the works?
"No. Now that I've moved away from Manchester — and stated I'm also leaving sci-fi — the idea of another Vurt book becomes a bit… problematic. I might come back, but at the moment I've got no interest.
"What I will say is that to a certain and very important degree, Needle In The Groove is that last Vurt novel. Because all the books in the Vurt sequence have been about the same thing. Which has got nothing to do with feathers, nothing to do with anything 'science fictional' at all. It's to do with the search for a new family. The escape from a broken family, the setting up of a new, alternative family, and the search to repair a broken family.
"Needle In The Groove and Vurt could almost be mirror-images of one another, in that sense. The difference being that at the end, Elliot manages something that Scribble from Vurt hasn't got a chance in hell of sorting out; his relationship with his father. So if you take this sequence of books as being about that subject, which I do, then Needle finished it. Obviously, the hardcore Vurt fans are going to say I'm being daft with all this," he laughs, "But you know, this is what I write about. This is my subject."
It does make sense; both Vurt and Needle are ostensibly about single protagonists, whereas Nymphomation and Pollen are ensemble pieces. There is indeed a mirror-image, even though each book in the sequence has gone further back into the past.
"Yeah, and now I'm doing a historical novel! I just hope people are picking up on these elements in my work. I hope they're not becoming so enamoured with the superficial subject matter that they can't see, I am on a journey here, and travelling a certain road I have to go down.
"I liken my position at the moment very much to J G Ballard. Ballard built up a very rich series of techniques over twenty years or so while his work was 'hidden' in sci-fi. And then, with Empire Of The Sun, he started to write about things which were more real, using those techniques he'd built up. That's quite interesting to me at the moment, with Needle In The Groove as the start of that. Using all these techniques to focus on something that's quite real, quite emotional and to do with the way people live their lives now."
Certainly, no-one could accuse Noon of not developing his style. It's one of the things which makes his work stand out from the crowd, a style which has become more fluid and, dare I say, "dubbed" as time goes on. In a sense, Noon's work is more to do with the way stories are told than the stories themselves.
"I'm glad you say that, actually. I'm a storyteller, and I love telling stories, but the way that I tell the stories is what really excites me. The writers I admire are those people of whom you can read two sentences and just know it's them. Those are the people I like. It's the same with music, everything.
"I do think this whole kind of 'dub fiction' thing I'm on at the moment is exciting for me as a writer. I hope it's exciting for the reader. You just don't know what's going to come out of it. It just seems right and correct that it should be happening now, at this space in time."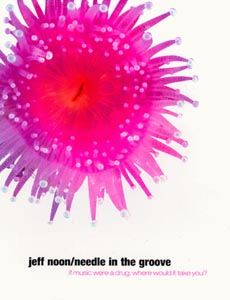 Right here and right now being the end of the century, the non-existent year double-zero. The year where trend itself is outdated, and there is no mode.
"Yeah. In this whole kind of pro-postmodern world we're living in, I think it's fruitful that people can discover new ways of telling stories. The way we live now, I call it Liquid Culture, and I think to find the prose equivalent of that is great."
And has he? Noon has another book due to be published in Autumn 2000, entitled Cobralingus. Is that his liquid fiction?
"Cobralingus takes this whole idea of remix fiction and pushes it right to the extreme. It's based on electronic music techniques, where I take sampled text and I push them through a series of gates. Each gate has a different effect upon the text, but it's not done using computers. It's all in my mind. And as it works its way through, each time it's a remix of what's gone before.
"I'm also starting to write with another writer in Brighton here, and that extends the thought into other people — we're remixing each other's text. My work's become very experimental at the moment, since coming to Brighton. Coming here was difficult, as you can imagine. Removing myself from the source of all those stories took me a long time to even start."
And Manchester meets liquid fiction — or at least, liquid music — in Needle In The Groove. I have to admit, even to a "hardened" Noon reader like myself, the first few pages of his latest novel were a shock, simply due to the extremely unconventional layout of the text and the way the narrative is presented.
"Well, it's no more unconventional than the way Patti Smith sets her poetry out, or Bob Dylan…"
Maybe not, but for Noon it was a big step forward, and one he's obviously happy with. Will we see more of that? Is his work going to continue, and develop, in that style?
"Certainly in these separate projects I'm talking about, yeah. Cobralingus is the first of them, and it will become more liquid. But in my 'mainstream' novels, there'll still be an overriding sense of story and narrative. I'm never going to lose that. I have no interest in presenting the reader with a kind of 'destroyed' narrative, unless it's specifically in an experimental setting. But obviously, the experiments that I'm doing will feed into the narrative stuff as well."
This poses a question. If he's committed to developing this style, and now that he's crossed the threshold with Needle, will he feel comfortable "going back" to conventional narrative?
"I think it's to do with being honest to the story you're telling, that's all. I have this idea that every story has its own particular language. A lot of writers don't consider this at all; they've got their style and they do it. But for me, easily the longest part of the process is discovering that language. Once I've done that, the book just goes.
"Needle was actually written in conventional punctuation for a while, until I started to let the ideas of the subject dissolve into the way it was written, so that the two can't be separated. You can't separate the form from the content in Needle. And once that happened, the book just kind of flowed out.
"So yeah, if get an idea for a more conventional story, I'll set it in a more conventional style. It's the language, you know? The book I'm writing at the moment has an invented language, but the punctuation is straight down the line, no messing about, because that suits the story. But the language itself is an invention."
Do I detect a bit of a Bauhaus thing going on here? Form follows function, and all that?
"Oh, yeah. Form is function. All this comes from my painting background. And of course sometimes, form can go against function for a deliberate effect. For instance, you could write about a DJ mixing, but in the style of John Donne… and I have done that at times. There are moments of that in Needle, writing very elegantly and poetically about something which is very modern and chaotic. And it sets up a kind of mix, a clash of styles."
John Donne. An odd choice of example, but works like Needle are certainly approaching poetry. Is this what we can expect from him in the future, something more akin to poetry?
"No, no, I just have an intense interest in language. This is something that's been growing since Nymphomation. That was a difficult book for me, definitely a watershed. But in terms of my progression it's a very important book, because that's when things started to dissolve for the first time."
Nymphomation also feels very self-analytical in places, almost as if Noon were looking back at this younger person who wrote Vurt, deconstructing his own text from a modern standpoint.
"It is a self-conscious book, yeah. I think if anybody looked back at the progression of what I've done, Nymphomation is definitely where things started to change. Of course, once you do that you're taking a pathway; and where that leads you just don't know. I am writing a novel at the moment, but I don't like talking about it. It's going to shock people. It's going to surprise people."
Is that "literary shock factor" important?
"Oh, yeah," he laughs. "I'm totally and utterly into people who surprise you, that's me. Sometimes in your life as an artist, you have to be quite brave about that. Especially if you have a fanbase, because not everybody manages to get one. But I think at some point in your career, you have to take account of that… and then move on.
"I mean, look at somebody like Terry Pratchett… You can imagine that Pratchett would love to move on. But can he? He's gone so far down that road now. And, you know, I never want to go so far down that road that I can't turn off it."
He pauses for a moment, considering what he's just let slip, and laughs. "That's either brilliant or something that should be in Women's Own poetry corner!"
So experimentation is very important to him, as an artist. If that's the case, why did it take Noon so long to write an overtly "punk" book?
"Did it?"
I certainly think so. His other works may have the sensibility, for sure. But Needle is the first novel which actually reads like punk, aside from the subject matter.
"I suppose so. A lot of that comes out of me knowing it was time to leave Manchester. I think it's fairly obvious Needle is my 'Farewell to Manchester' book. It's me looking back at my life, and how music has affected it. Note that the furthest they get back on their musical trip is 1957; the year I was born. So it's quite a conscious summing-up of that addiction to the Manchester music scene, and both the good and bad sides of that addiction."
Is this why we get the tour round the streets with Elliot, pointing out places like John Cooper Clarke Terraces, Joy Division Street, and so on?
"That part actually started out as a kind of satire on New Manchester, and the 'heritage industry' they're building up there. But it turned into something quite poetic, almost a kind of prayer, especially on the CD. And it also ties into things that were in Pollen, the idea of maps in the mind, maps in reality, and how the two coincide. Again, that comes from Borges."
That's definitely a theme of his; is it something he's specifically interested in, the idea of mapping the mind and consciousness?
"Well, mapping the city, yeah. I'm well into this psycho-geography stuff that goes on in London. I love that, the 'labyrinth' idea of a city, and how the human mind corresponds to that."
Pollen certainly seems to make that match — between the city and the person — with Columbus the Xcab King, whose mind is the city. And he's another of the introverts, almost psychologically crippled because he's become one with the city.
"Well, there's a large introspection in me, anyway. A lot of what I write about comes from my childhood, and knowing that I had this special thing — imagination — but not knowing how to communicate it."
Is there a danger in becoming too tied to a city?
"Oh, yeah. Definitely. I don't think that you should in any way become tied beyond a number of years, certainly these days. There's just no need for it any more. My Mum and Dad were born, lived and died in the same area. And that shouldn't happen any more. We have to move on. We have to explore."
He mentioned the Internet earlier, as being one of the elements which contribute to the modern youth's differing mindset. Does he feel the global awareness it can bring is helping this aim, societally?
"Yeah, it's part of it. I do think we're putting a lot of emphasis on the Net beyond what it is. But it's another part of Liquid Culture, like the DJ remix. The remix to me is the ultimate postmodern artform, and the Net is a symptom and a part of that."
Noon has finally started experimenting in the "DJ remix" area himself. Alongside the novel of Needle In The Groove came an audio CD, executed by David Toop and released on Sulphur Records. It's an ambient wordtrip; Noon reads passages from the novel while Toop cuts them to ribbons, adding an urban underlay of beats and soundforms. It's certainly… different. And, on reflection, something which I'm surprised Noon hasn't tried before. How did it come about?
"It kind of grew out of some things the publisher said, about doing a few tracks for promotional purposes. Just to give out to bookshops, initially. And I've always loved Toop's music, so I asked him and that was it. I didn't know him before this. I'd met him maybe twice, three times before we actually recorded."
Did Noon have much "hands-on" involvement with the production?
"Well, I sent him the lyrics, and notes on the musical ideas I had in my mind. Working from that, he sent me tapes, which I worked to. And then we went in and kind of co-produced it. It was amazing going in there, because I hadn't been in a recording studio for years, and all this digital stuff they've got is just mind-boggling."
Noon's voice rises a little as he becomes more animated. I get the distinct feeling we're into a subject Noon wants to talk about a lot…
"I mean, they can do anything, absolutely anything. They can manipulate the musical input, the signal, any way they like. And then coming home again, turning on the word processor… You just think, there's something wrong here. There's a massive difference between the way that I can manipulate text, and the way that David can manipulate the music on his screen. And I don't know why that's built up.
"For instance, I'm often changing the sex of my characters. But there's no button I can press that says, 'Change the sex of this character all the way through.' Ridiculous. There's no button I can press that says, 'Turn this into the past tense.' And there should be."
Not that technology's shortcoming are going to stop him. "With Cobralingus, I'm doing a lot of random manipulation. But I have to do it all by hand, either on screen or on bits of paper. There isn't a button I've got that can randomise it for me. Sure, there are random text generators and so on, but they're seen as add-ons rather than part of the process of Liquid Culture. We need to allow words to become part of that. And to do it we need the tools, like they already have with music. At the moment, all I have is my mind and a cut and paste button!"
Cobralingus is being produced through Codex Books, based here in Brighton. Is there any reason why Noon seems to favour smaller publishers? Even Anchor, his current publisher, is only a small imprint of TransWorld. Is it a control thing?
"It's just nice for me to have those two options, really. I mean, I do want to write books that reach people, but at the same time I also want to write these books that are just for me.
"I don't really get interfered with that much. I think TransWorld don't really understand me that well," he chuckles. "I'm the most leftfield writer they've got, so I'm just kind of left to get on with it. And with Codex, it's nice to have that intimate relationship with a publisher. So it really is the best of both worlds."
We suddenly realise the café actually closed fifteen minutes ago. There's a big CLOSED sign on the door, and the chairs are up. The staff have been patiently waiting for us to finish, so as we make ready to set off I quickly ask the inevitable end-of-interview question: what's next? I heard a rumour linking Noon with Hollywood…
"Yeah, we're working on something, but it's taking ages. I can't talk about it. I do want that sort of stuff to happen, though. We've just finished the Vurt play in Manchester, which I wrote about three years ago, and seeing it now… Well, if I wrote it now it'd be entirely different. So when I write the film, I definitely want it to come through my consciousness now. I don't want to replicate what I was eight years ago, I can't stand that.
"So the film, if it does happen, will be interesting. It'll be a bit of a surprise, I think, because compared to the novel and the play, it will be the most realistic of them all, with the least special effects." He gives a broad smile, knowing full well that it's the last thing people will expect of him.
But that's the point; Noon probably couldn't stop re-inventing himself if he tried. He's all about the remix, the experiment; what happens if you take this word, or that phrase, and give them new meaning? What happens when strangers overhear one another's thoughts in subjective languages? How do you use one text to tell a different story to every person, and every single one of them is right?
And I realise, as I head back to the train station, that it's catching. I've been injected with Liquid Culture.