Bethan Roberts watches the transformation
of the American-Italian man, from The Godfather to Saturday Night Fever
With The Godfather recently re-released in a new print, Don Corleone and his family are back on our screens, shovelling spaghetti into their mouths, screaming at their wives and shooting other Mafia families – all with excessive amounts of blood, plum tomatoes, swagger, sharp suits and great style. I love them all – I cry at Michael's wedding, smile wryly at the Don's death, wince at Connie's bleating and thrill at Sonny's explosions of sex and violence. But I also hate all that macho posturing, those strangling patriarchal systems, the supplication of wives, mothers, daughters to men's "business."
I want to pay these godfathers due respect, but I also want to look beyond their dapper costuming and ask why these representations are so cherished in our culture. In doing so, I want to suggest that the most interesting thing about Robert De Niro, Al Pacino, Marlon Brando and their Latin brothers is the way in which their Italian-ness is defined through their sexuality. The phenomenon of "Italian-American" as a sensibility and a particular set of narrative conventions has shifted over the years since The Godfather, but the core characteristics remain the same. Italian-Americans, according to screen law, are sexy, violent men struggling against the powers that be to protect their family honour. Their stories are full of the rituals of heterosexuality performed with glamour and passion (weddings, family feasts, straight sex). Their muscles flex to grapple with, and glory in, organised crime, the Catholic church and l'ordine della famiglia: a highly controlled and controlling hierarchical patriarchal family system.

After Francis Ford Coppola's The Godfather was released in 1972, the screen image of Italian-American masculinity which it established became so popular that it entered the realms of social iconography, swiftly reinforced by the likes of Martin Scorcese's Taxi Driver and John Badham's Saturday Night Fever. Don Corleone's "I make you an offer you can't refuse", Travis Bickle's "You talkin' to me?", car bumper stickers reading Mafia Staff Car; Keepa Ya Hands Off and endless parodies of John Travolta/Tony Manero doing that dance in that white suit – gestures which we think of as Italian-American have become part of our culture. Italian-American men have stepped out of the screen and into everyday life and language.
What it means in screen terms to be an Italian-American man can tell us much about what it means to be a white man. It is crucial that white male heterosexuality is made visible, is put under the critical microscope, in this way because it has always maintained its dominance by virtue of its invisibility. As Richard Dyer has argued in his essay "White", whiteness, like heterosexuality, secures power by appearing not to be anything in particular. It is simply there, transparent, the given and "natural" way to be. "Italian-American" is one typification which whiteness has constructed of itself – a group of stereotypes which provide us with a starting point for understanding how whiteness sets itself up in a dominant position.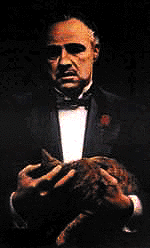 In the 1970s, white American culture seemed to be in crisis. The Watergate fiasco, the war in Vietnam, the rise of black, gay and women's liberation movements all meant that the hallowed American way lost its direction. Hollywood's reaction was to look to ethnicity as a means of reinstating the white heterosexual males' central position of power, returning him to his role as the Real Thing. We can admire and trust Don Corleone's power because it does not appear to be compatible with WASP power. Italians were a way of getting back to basics through the depiction of a truly "American" ethic of the struggle for survival in a land where nobodies can become somebodies – as in The Godfather, Rocky, and, rather differently, in Taxi Driver, Dog Day Afternoon and Saturday Night Fever. In addition, Italian culture had the added attraction of l'ordine della famiglia to help (re)glorify patriarchy and put women back in their place: in the home, supporting their men from beneath.
However, since the Italian American man's "realness" is so often represented as physicality – we know he's authentic because we can see his sweating body – the reality of his heterosexuality is considerably destabilised. The power and danger of the "Italian" body on screen are heavily eroticised qualities. Male WASP heroes of the seventies, like Clint Eastwood and Charles Bronson, are invisible bodies who display little emotion, epitomising rigid stoicism and phallic control. In Dirty Harry (1971), Eastwood is always poker faced, never ruffled or sweating very much, his power coolly contained within his .44 Magnum pistol. The Italian man is often opposed to such straightness, flexing his muscles, getting all hot blooded and passionate, demonstrating his body as the signifier of his masculinity and ethnicity.
The display of the male body as erotic object is a troublesome area: how do we make these bodies, which are supposed to be active, hard, non-malleable, into "passive" objects of the cinema audience's gaze – a role traditionally reserved for the female body? One way to do it is through sporting images – the excuse for looking at a man's body being the admiration of his strength in a culturally accepted "male" activity. It is often more effectively done through homoerotic traditions of representation, since these are the most obvious ones available for such purposes. Unlike women, gay men have had the economic strength to market the male physique, from the Athletic Model's Guild studio shots of the 1950s to the huge gay porn industry of today. In the screen representation of the Italian-American man there is a tension between the use of such homoeroticism (the spectator is invited to love these men) and the denial of homosexuality (the Italian is a virile, heterosexual family man).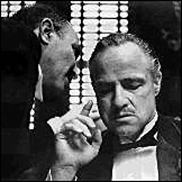 "I make you an offer you can't refuse"

The Godfather provides the models for Italian-American screen masculinity throughout the Seventies. Within its family epic structure, The Godfather's main concern is with how to be a man, and Coppola's men rely heavily on nostalgia. The Don (Marlon Brando) is guardian and his business is family. The Donis/Brando's image is constructed in opposition to Salazzo the Turk's, his "business" rival, a man who looks like the devil incarnate with his oily, flappy face and his swanky fur-collared coat. The Don, however, is clean cut; he benignly rejects Salazzo's offer of a place in the drugs racket as a "dirty business", choosing instead to talk about his "sentimental weakness" for his children. Salazzo has no family, no "honour" to cleanse him. The Don is Italian through and through, but he is also Americanised enough to remain a hero.
Coppola has it both ways, then: whilst the Don is successful and all powerful, he is also aging and falling from his position, lending him a tragic poignancy and creating a nostalgia for the perfect Italian-American man he once was. He is even associated with an "American" innocence and abundance: he dies amongst the tomato plants, stumbling into the verdure whilst pretending to be a monster to amuse his grandson. It is as if the Don was only performing monstrousness all along so that he could keep order in his pastoral family garden, so that he could reap the harvest of America.
The Godfather establishes a range of masculinities which line up to take their shot at filling the Don's shoes. Sonny Corleone, as played by James Caan, is the sweating, sexy beefcake Latin of the film, swaggering about and exploding in sporadic bursts of violence. Coppola gives us many glimpses of Sonny's/Caan's body, usually clad in a tight white vest, showing off his muscled shoulders and his chest hair, which seems to be as uncontrollable as his libido. The white vest is an essential item of the screen Italian-American man's wardrobe. Borrowed from Brando's sexy ethnic proletarian in A Streetcar Named Desire, whose "true" feeling gushed forth from every orifice, it allows just enough of the upper body to be exhibited whilst still insisting upon a thoroughly masculine way of dressing for utility purposes only, suggestive as it is of the working man. Sonny actually does no work in his vest, but anxieties about the presentation of his body as an object of desire (for both male and female, gay and straight audiences) are dealt with through the heterosexualising, "masculine" violence of Sonny's body.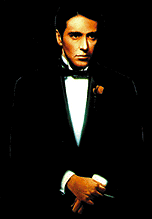 Sonny is the wild card philanderer, always mouthing off, complete with "Italian" theatrical gestures. He is placed in opposition to Michael's/Pacino's strong silence. Sonny contains too much libido and ethnic crudeness to take the Don's place; Michael broods smoulderingly, Sonny just explodes. However, whilst Coppola appears to reject Sonny's passionate Italian-American machismo in narrative terms (he is killed off in the most explosive manner), he actually fills the screen with images of Sonny's exuberance and impressive physicality.
In fact, the eroticism involved in the film's presentation of Sonny is negotiated through his screen climax: his death on the highway. Always the swaggering sex object, Sonny's bodily excesses are ultimately displayed and punished by being blown to bits. This way, Coppola can save the virile ethnic masculinity he represents without actually endorsing it. Sonny is martyred by this gruesome death on a lonely highway; his masculinity has to be torn apart in order to be re-made in our imaginations, so that we can mourn the Don's/Brando's/our loss.
His violent death also saves Sonny-as-sex-object

from the too self-conscious passivity of another Italian "godson" swaggerer of the film, Johnny Fontaine. Like Sonny, Johnny is a ladies man, but his blatant narcissism places him perilously close to a cliche of queerness. Fontaine is an oily wop crooner, complete with greased hair, white suit and frilled blouse; he is a sop who has to be ordered by the Don to "act like a man". It is interesting that, by the time of Saturday Night Fever, these opposed representations of Italian-American masculinity can become enmeshed (and can remain heroic) in the figure of Tony Manero/John Travolta, who can wear a frilly blouse and still "act like a man"
And so the burden of The Godfather's position falls on Michael's shoulders. Although Michael's macho Godfather act is revealed as a sham which eats away his insides, this is less a matter of Coppola subverting gender roles by illustrating that they are a matter of social construction, than it is of him lamenting the passing of a time when such macho masculinities really existed. We may dislike Michael as Godfather because he is not the benign and noble Brando, and because he is not what the film shows he could have been in an earlier time and place – in Sicilian "history", within an ethnic narrative. The Godfather locates its ideal masculinities in Sicily, in a fantasy narrative of nostalgia for the phallic wholeness of the homeland. Enter Pacino as Sicilian shepherd, walking back to his father's home/name (Corleone), accompanied by a version of the sweeping theme tune arranged for mandolin. This is a rural idyll where boy and girl can meet and fall in love without complications – all the conventional narratives of heterosexual romance are employed without a hint of irony.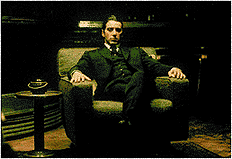 Coppola's nostalgic glance at Italian-American masculinities makes it difficult to read any critique of conventional masculinities in the film. The main reason we love godfathers Brando and Pacino is that they are such perfect examples of gentlemanly tyranny: they are so powerful and yet so self-contained. However, the image of the eroticised male object is a prevalent one in The Godfather and other Italian-American screen narratives, and this image is potentially a disturbing one to conventional gender relations.
Throughout the 1970s, the Italian-American screen male was increasingly represented as body, as an object of desire for all audiences. The Godfather always encourages us to love its men but insists that they remain solid men of action, their screen existence lived out with plenty of grand gestures. The thing about The Godfather is that it takes itself very seriously indeed; the key to its seduction lies in its epic feel, its supreme orderliness, its world in which everyone has their place. I'm seduced by this world, too, but I'm glad that other Italian-American screen men strutted their stuff and shook up its order: Pacino as bisexual Sonny in Dog Day Afternoon, in whom those exaggerated "Italian" gestures become slightly campy; Nicholas Cage in Moonstruck, giving a brilliantly over-the-top portrayal of a sweaty/swarthy/sensitive Italian beefcake; and, my personal favourite, John Travolta in Saturday Night Fever, whose excessive emotions are triggered not in response to his family honour but by the state of his hair: as his family squabbles over spaghetti, Tony worries about his coiffure ("will you just watch the hair? You know, I work on my hair a long time and you hit it. He hits my hair").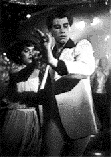 Tony preens himself openly, posing in the mirror whilst wriggling to the Bee Gees. Like the men in The Godfather, he prepares his body for action, but he does so for dancing, not for fighting. His only possible phallic weapon is his professional-looking long-nozzled hairdrier, and his "killing" arena is the 2001 Odyssey discotheque, where he slays them with his grooving. In a sense, The Godfather paved the way through the crowded night club for Tony; after the heights of Italian-American macho it reached, the only way to go was down the disco, the only thing to do with the display of those hard bodies was to choreograph their movements to music. Saturday Night Fever brought the nostalgic Corleone masculinities into the future of the 2001 Odyssey where Italian-American-ness finally had a chance to strut without leaving a trail of bodies in its wake.