Chris Mitchell sees the American premiere of
I Shot Andy Warhol
The debut feature from writer-director Mary Harron, which opened in New York last month, takes a hitherto unexamined angle on the Warhol myth. I Shot Andy Warhol tells the story of Valerie Solanis, Warhol's would-be assassin and author of the S.C.U.M. (Society for Cutting Up Men) manifesto. Focusing mainly on the couple of years leading up to the shooting in June 1968, the film makes deft use of flashbacks and wry soliloquies from Solanis to trace the genesis of her theory that man is only a biological accident. Whether amongst the high-life Factory crowd or prostituting herself on the street, Solanis finds plenty of case-studies to support her idea. The lack of recognition from the Factory crowd for her creative talents, exacerbated by her extreme poverty, drives Valerie to seek power through other means…
Originally conceived as a TV documentary-drama, I Shot Andy Warhol has the same sort of low-budget atmosphere. This works against the film during the Factory scenes, where the attempt to depict outrageous decadence looks distinctly tame. Jared Harris' performance as Warhol also falls victim to the film's documentary approach. Warhol is still very much a visual icon and subsequently any actor trying to play him has to reproduce Warhol's presence, not just his speech patterns. Harris does the latter brilliantly, but fails to make the audience suspend their disbelief.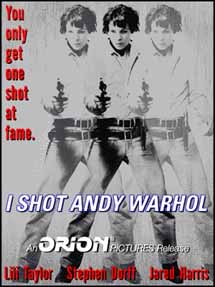 It is precisely the relative visual anonymity of Valerie Solanis that allows Lili Taylor to fully take on her persona. She gives an excellent performance, harsh, humorous and streetwise, particularly when sharing the screen with Stephen Dorff's wonderfully diva-esque portrayal of the transsexual Candy Darling. The unlikely, amusing friendship between Solanis and Candy points to the fundamental paradox of Solanis' character – for all of her theoretical hatred of men, Solanis is continually seen striking up friendships with them. At one point Solanis conducts an audition for her new play in an alley, telling the hopeful actor, "Don't worry, I'm not going to mug you, it's just bad for my image to be seen with you."
This is also the major problem of the film, because there is no real reason given for why Valerie shot Warhol at all, except for her frustration that he wouldn't produce her play (characteristically entitled Up Your Ass.) This seems more motivated by petulance rather than hatred or rage. Worse, the film makes no attempt to examine the aftermath of the shooting, either for Solanis or Warhol. It is left to the end credits to point to something darker beyond the film's feisty portrayal of Solanis; a brief caption notes that after the shooting, Valerie spent three years in jail followed by six years in and out of mental hospitals. She died in 1988. I Shot Andy Warhol certainly portrays Valerie Solanis as "a gritty, ragtag feminist too far out for Warhol" (New York Times) – but it seems as if the real story begins after the film's conclusion. Those of you who are intrigued by the Warhol myth will probably find this film worthwhile – but while it finally gives centre stage to the shadowy Valerie Solanis, it prompts as many questions as it gives answers.